The following article is written by our partners at Flex as part of our In Conversation With … series.
In the past, all you needed was big, heavy machinery to improve efficiency and productivity in the construction industry. Now, it is the little things that make the difference. Digital technologies are transforming the sector by providing data that enables more timely maintaince, better parts management and improved machine utilization. Increasingly, the Internet of Things (IoT) is driving that change.
That's because adding connectivity and computing power to assets, even in hard-to-reach locations, gives organizations the data and insights they need to optimize their operations. They can act swiftly and with greater certainty, allocate resources more efficiently, and solve problems before they arise.
However, the benefits will only be realized if the data that underpins their decision making can be trusted. Or, to put it another way, if IoT product developers are designing, building and manufacturing secure devices.
The Importance of Building Trust in the IoT
In recent years, some product owners have discovered that connectivity can come at a cost. There have been several high-profile attacks on IoT products including security cameras, lightbulbs and cars. So, should the construction industry be concerned?
To answer the question, consider the implications of an attack on the companies that shape our built environment. A security breach that gives criminals access to private networks; enables them to modify a device; steal or corrupt sensitive data; or affect the functioning of machinery is at best inconvenient, but it could also put an organization, its people, and the wider community at risk.
In addition, if we are not developing secure, trustworthy devices, we will undermine our own attempts to realize the potential of the IoT. An estimated 75 billion connected IoT devices are anticipated by 2025, but that number could be limited by doubts about security. Designing in security now, builds customers' confidence and trust in our designs and in the wider opportunities.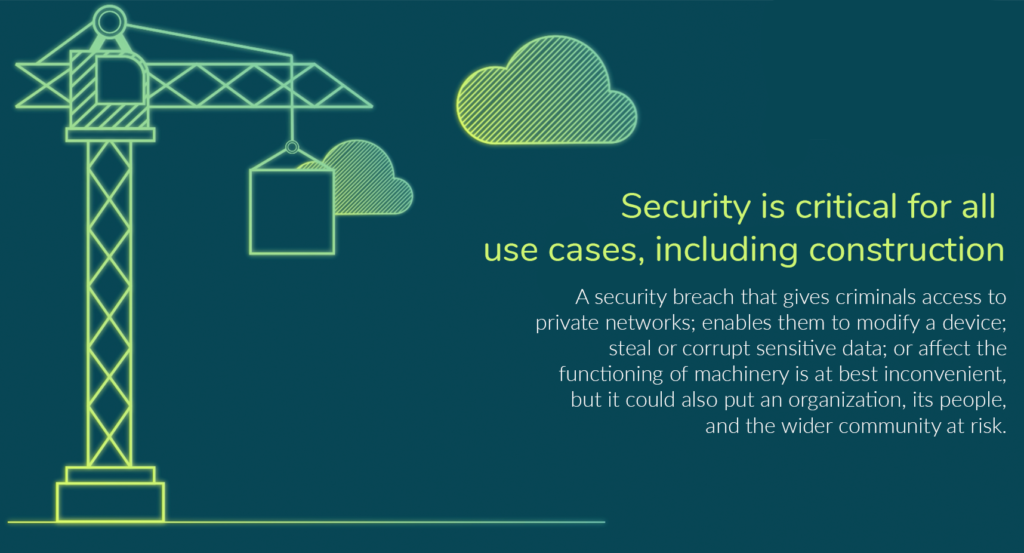 Laying the Foundations for a Secure IoT Device
The question is, where do we start? In the construction industry, a company would not commence work on site if it was not building on firm foundations. We are taking the same approach by ensuring security is designed-in to our devices from the outset. Our PSA Certified iENBL low power, wide area network, rapid development platform is an example of this. iENBL utilizes ST Microelectronics' ST32L4 PSA Certified Level 1 silicon, so we knew we were building on a secure foundation and industry best practice. That means that we can protect our customers from the most common IoT attacks.
That is particularly important for organizations deploying large numbers of sensors or scaling their products globally. For example, we worked with MachineMax, a London-based start-up that set out to track and manage every off-highway machine in the world. The company's first challenge was to find a way to transform the expensive and time-consuming task of manually recording the running time of customers' heavy equipment so they could manage and maintain their assets more efficiently. The company had realized that, in some cases, machines were idling as much as 40-50% of the time, at a cost of up to $50,000 per asset, per year. To improve productivity and reduce costs, MachineMax needed a wireless, connected device that it could use to analyze and share usage data, and it had to be able to deploy the product internationally from the outset.
We were able to use our expertise to help the company fast-track development and test its solution without incurring many of the costs associated with custom-built hardware. To do that, we used the iENBL platform as a reference design and development platform. If the basic architecture could be trusted, then the end product, and the data it gathered and analyzed, could also be trusted. Fortunately, iENBL has been independently tested and verified as being built on security best practice.

Certification Offers Your Customers Assurance
Data has become one of a company's most valuable resources, which is why it is an attractive target for hackers. Its importance will only increase as artificial intelligence (AI) and machine learning (ML) enable organizations to extract more meaning from it. With this comes additional challenges for original equipment manufacturers because of the interdependant relationship between the data, insights and the device.
Similarly, as the impact of the IoT extends beyond individual organizations to entire industries the need to secure the device, starting at the silicon, grows alongside it. When digital transformation is automated and devices are deployed with a zero-touch lifecycle, security will not be optional. It may be that our partners in the ecosystem agree. According to a recent PSA Certified survey of more than 600 key decision makers worldwide, two-thirds of companies are already taking active steps towards implementing the security needed for digital transformation.
The next step will be demonstrating to customers that products have indeed been designed and developed with security at their heart. PSA Certified's independent certification scheme provides us with the evidence we need to assure organizations that basic security requirements have been met.
Security is an Ecosystem-wide Challenge
Security may be increasingly hard to ignore but many device manufacturers do not have security specialists within their team, or the resources needed to protect their IoT products. In fact, PSA Certified's research showed that less than half of the people they surveyed who were working for smaller businesses, that is, organizations that have between 1 and 49 employees, were satisfied with the level of security expertise within their team. We know we can help democratize security by developing our platform on silicon that has been independently assessed as being secure and providing trusted components that others can use to bring their ideas to life.
With this approach, we are hoping to build trust in our own industry, drive change across other sectors, and nudge the world closer to the earth shattering number of 75 billion connected devices.
Visit our website to learn more about our IoT development platforms, including iENBL.