Using the PSA Certified IoT Security Framework
Design-in Standardized Security to the IoT
PSA Certified provides a comprehensive framework to help fulfill its goal to improve the security of IoT devices. Independent testing of defined security standards builds trust into IoT devices and the services that rely on them.
With the PSA Certified framework, you can
Develop a threat model for your device to establish the security requirements
Choose an appropriately secure chip
Use the high level, easy to use PSA Functional APIs to simplify development
Demonstrate that good security principles have been applied and baseline cybersecurity requirements met by completing a PSA Certified Level 1 for the device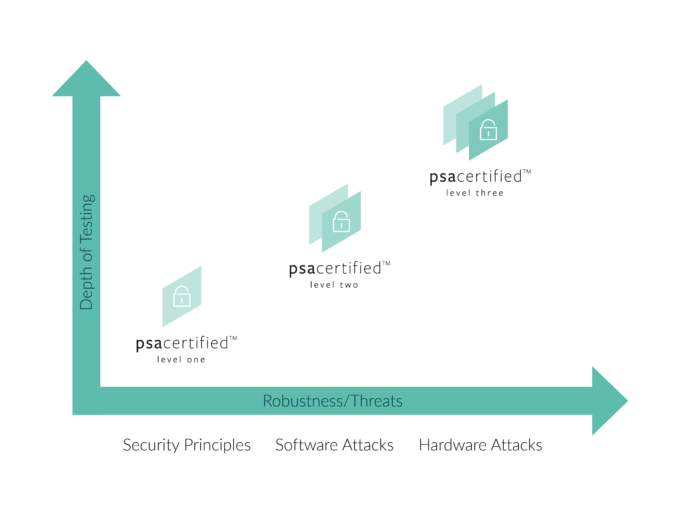 Right-Size Security
PSA Certified provides three levels of security assurance to ensure right-size security.
PSA Certified Level 1 is for a broad audience to showcase security principles.
PSA Certified Level 2 and PSA Certified Level 3 are specifically for chip vendors to showcase increased robustness of the security component, enabling device manufacturers to implement increased protection without the additional device testing.
Foundational Approach to IoT Security
PSA Certified stands on a firm foundation that includes published IoT threat models, the 10 security goals, and on-going evaluation of government guidelines and requirements. The program is reviewed annually to provide a well-informed scheme.
Certification for the Whole Value Chain
PSA Certified offers security certification for all components of a connected device. You can showcase your security expertise when you design and build silicon, a software component or end devices.
It Takes an Ecosystem to Secure the IoT
The PSA Certified ecosystem brings choice to the IoT, making security accessible. By using certification components, you can lower the barrier to security by taking advantage of composite certifications and make use of a central anchor for all security functions – the Root of Trust.