The following article is written by our partners at onsemi as part of our In conversation with … series.
The industrial Internet of Things, or IIoT, is unlocking new opportunities for organizations in the construction, manufacturing, energy, agriculture, and mining sectors. By connecting wireless devices to industrial networks companies can easily gather information on their assets, including legacy devices or those in hard-to-reach locations. That enables them to work in entirely new ways. But how can companies start utilizing IIoT devices to work in these new ways without exposing their business to the risk of cyberattacks?
The Benefits of IoT-Enabled Predictive Maintenance
The IIoT gives organizations the data they need to improve safety, optimize operations, and reduce costs through predictive maintenance. Monitoring the condition of assets in the hope of preventing problems before they occur is not a new approach, but it has the potential to deliver greater benefits when it's underpinned by real-time information and insights. As a Manufacturing.Net article explained: 'The goal of predictive maintenance is first and foremost to predict when asset failure is most likely to occur. Monitoring for future failure allows repairs to happen at the precise time required, rather than too early, while the part still has life, or too late, when the part is already offline.'  
Consider the benefits of being able to identify and fix an issue with a factory line before the entire system shuts down or causes delays in a supply chain. IoT-enabled predictive maintenance also has the potential to extend the operation guarantee of high-value assets such as wind turbines– an industry where until recently asset owners have had little to no insights on the condition of their machines.
A survey of firms by professional services company, PwC, suggested the life of an aging asset could be extended by, on average, 20% if it's managed in this way. Its findings were based on responses from companies that had benefited from predictive maintenance in the past 12 months.  The research also showed firms achieved on average a 12% reduction in costs, and uptime increased by an average of 9%.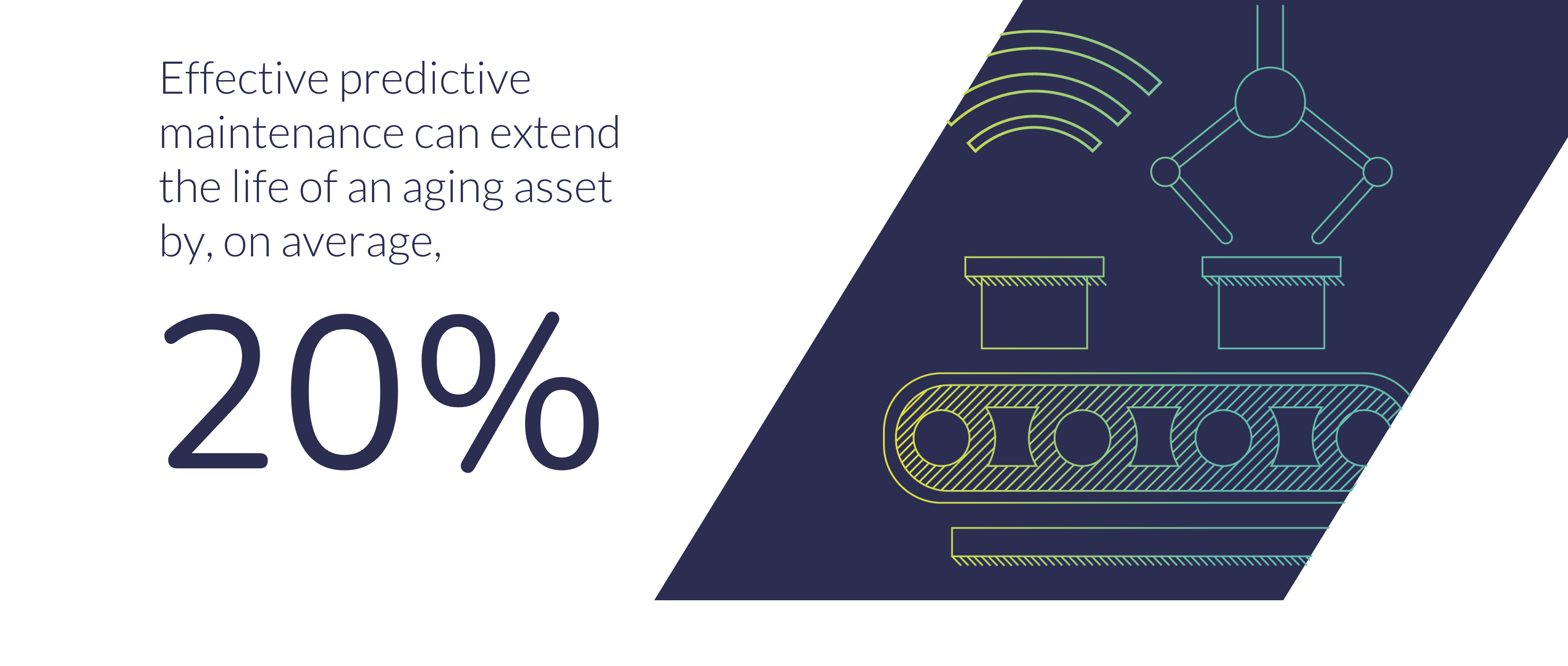 The Industrial IoT Has to Be Built on Secure and Trusted Devices
To be able to harness the power of IoT-enabled predictive maintenance, the data fueling these insights must be trusted. Ultimately trusted data can only come from trusted devices. An insecurity in just a single device can leave an entire system vulnerable to a cyber-attack, this can have a wide-reaching set of damages. While an attack on any market can be costly, this is particularly the case for the IIoT where many assets are of high value or become potentially dangerous when tampered with.
For example, if a hacker can gain access to a smart manufacturing plant and override warnings without raising suspicion, in the best-case scenario restoring the systems will cost time, money, and reputation damages, but in the worst-case scenario, it could compromise workers' safety or even put their lives at risk.

Unfortunately, the number of cyberattacks on the systems used to monitor and control industrial equipment is increasing. A 2019 report from the Ponemon Institute and Tenable described the attacks as 'relentless and continuous'. It found that 90% of the organizations surveyed had been the victim of at least one cyberattack in the previous two years, and almost two-thirds (62%) had experienced more. The costs of the unwanted attention varied. According to the report, the attacks '… resulted in data breaches and/or significant disruption and downtime to business operations, plants, and operational equipment.'
Implementing Security in an Industrial IoT Device
Security, including stopping an intruder from taking control of a system, and safeguarding an organization's data and intellectual property are two of our customers' key concerns. However, we know they're also balancing the security requirements against the need for longer battery life on their device and shorter time-to-market development cycles. They want long-lasting products that will be supported in the field for years to come.
That's why we developed RSL15, a secure, ultra-low power, high-performance, Arm Cortex-M33 powered, Bluetooth Low Energy microcontroller. It's designed with security in mind, unlocking use cases for not only industrial applications but also smart building, smart city, smart industry (including electronic tags, data logging, worker safety, and machine monitors), and finally low/no-power connected devices.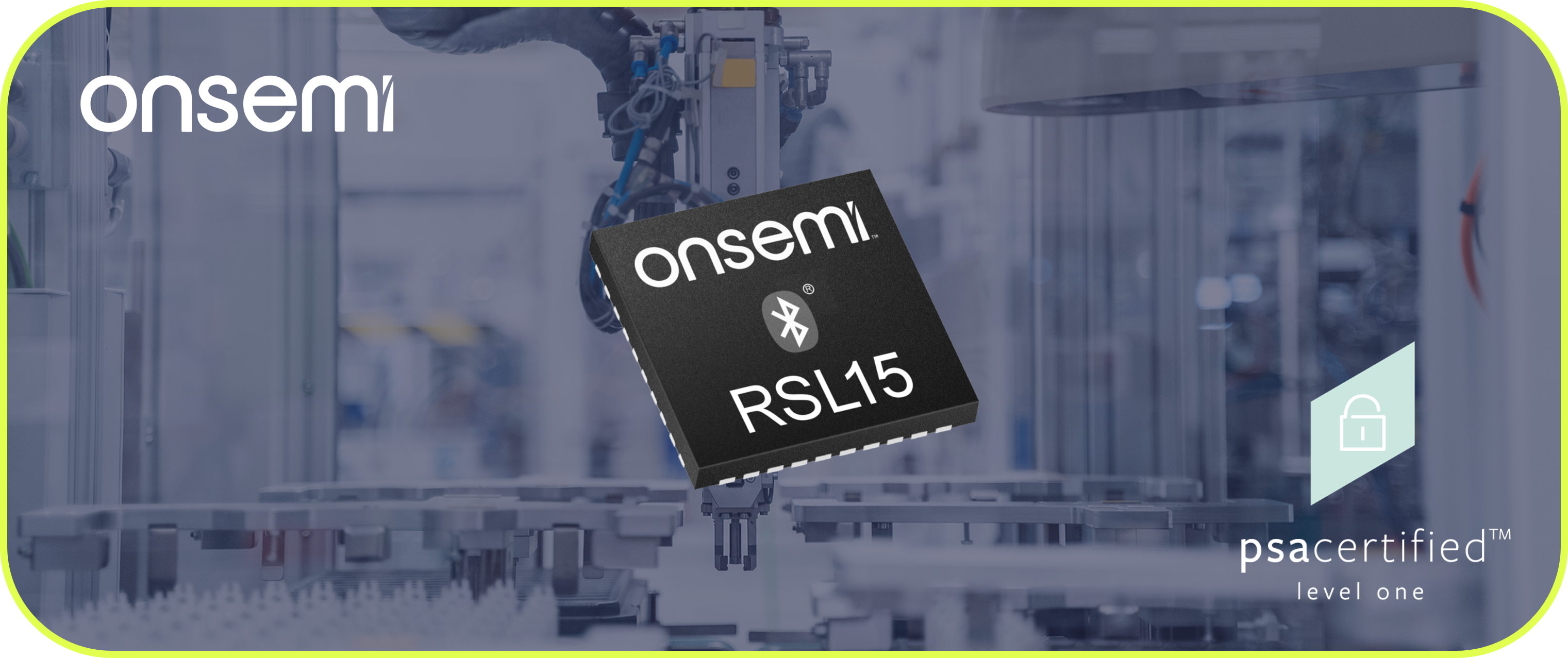 If it's deployed in an industrial setting to enable predictive maintenance, data on temperature, pressure, and humidity will be gathered, along with information from accelerometers and possibly gyroscopes. Algorithms will then process the data locally in real-time and report any anomalies via the Bluetooth connection. The RSL15 can trigger a local output to shut down the machine if there are critical irregularities.
Given the potential implications of a fault in a system, we had to ensure security was designed-in to our MCU. The industrial market has evolved to a point where some level of protection is required for the application described above, and it's likely that security will be mandated by governments or industry bodies in the markets we serve but, in the meantime, establishing a strong foundation also gives our customers peace of mind.
In addition, we wanted to make sure we weren't simply making claims about the steps we'd taken to secure our product and could instead demonstrate that we'd followed industry best practices. To do that, we had our device independently reviewed and certified as part of the PSA Certified scheme. Achieving PSA Certified Level 1 means RSL15 is protected against the most common IIoT attacks, and that it aligns with the major standards, requirements, and regulations being introduced worldwide.
We also provided PSA Certified silicon (RSL15) and PSA Certified software components in the software development kit, which enables customers to build their own applications. They can also leverage our PSA Certified credentials for their own product's certification.
Demonstrating the Benefits of Security to Customers
Third-party validation of our security implementation proves the value we've added to our product. By providing high levels of data security, we can help companies protect against hacks, which means their data and their customers' details will remain safe, and their systems will be protected from unauthorized control. It could also help them safeguard their brand identity, and even corporate and shareholder value.
Onsemi is driving disruptive innovations to help build a better future. Get in touch with us to learn more about our RSL15 ultra-low power microcontroller or to find out about our other IoT solutions.
Next Steps
Discover more about the Industrial IoT and how security is key for unlocking new efficiencies and use cases.