As digital transformation gathers pace, we're seeing a rapid growth of smart connected devices. As deployment scales, end-users need to feel confident that their devices are secure from cyber-attacks. Despite the growing number of devices and a growing number of hacks – security isn't something that is being prioritized. It's clear that solving the threat of cyber-attacks is a critical need and is impeding the growth of digital transformation.
In order to gain an understanding of security today, PSA Certified has launched its inaugural research report, "Bridging the gap: How collaboration will secure the future of IoT". Analyzing over 600 responses from decision makers in IoT, the report highlights the need for action if the IoT is to scale with success. It gives clear insight into the minds of manufacturers today and what they need from the ecosystem to deploy security in their devices.
In this on-demand webinar, you will learn:
Some of the key findings of the PSA Certified 2021 Security Report
The challenges facing IoT security today: directly from the OEMs
How collaboration will help the industry overcome the biggest barriers
How PSA Certified has enabled the electronics industry to adopt a common security framework, putting a hardware Root of Trust at the heart of the system and extending it through systems with reusable software components
More information about the PSA Certified scheme, including the 'levels of security'
How you can join our rapidly growing ecosystem to defragment security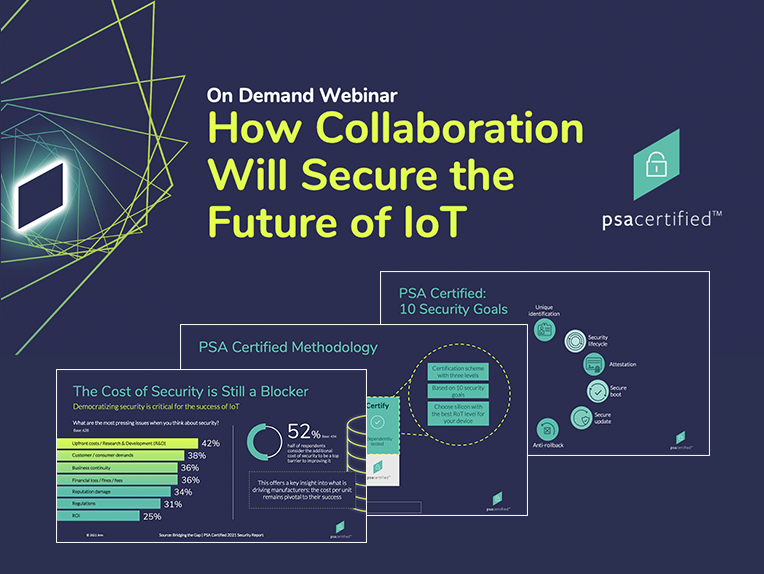 About the Speaker
David Maidment is the Director of Secure Devices Ecosystem within the Architecture and Technology Group at Arm. Based in Cambridge; David brings over 25 years of experience in the embedded and connectivity industry. He specializes in the intersection between security and the Internet of Things.
As we move towards a connected world, device level security has an increasingly important role in bringing together the internet of things, connecting objects, people and services all around us. In his role at Arm, David looks at the emerging device security technology landscape including the PSA Certified initiative. Before joining Arm in 2012, David held a number of roles at picoChip Designs, NXP Semiconductors and Hitachi Europe.