A multi-level assurance scheme for IoT devices and services
PSA Certified has been jointly developed by six companies: four world leading test laboratories (Brightsight, CAICT, Riscure and UL), a security consultancy with a long history in Trusted Execution Environment and threat modelling (Prove&Run) and the world's largest chip IP company (Arm).   The scheme provides three progressive levels of assurance and robustness to enable device makers to get the level of security they need for their target market.  The resources page on this website has a set of documents that can be downloaded to help you get started, alternatively, if you would like to talk to a test lab about PSA Certified you can find contact details here.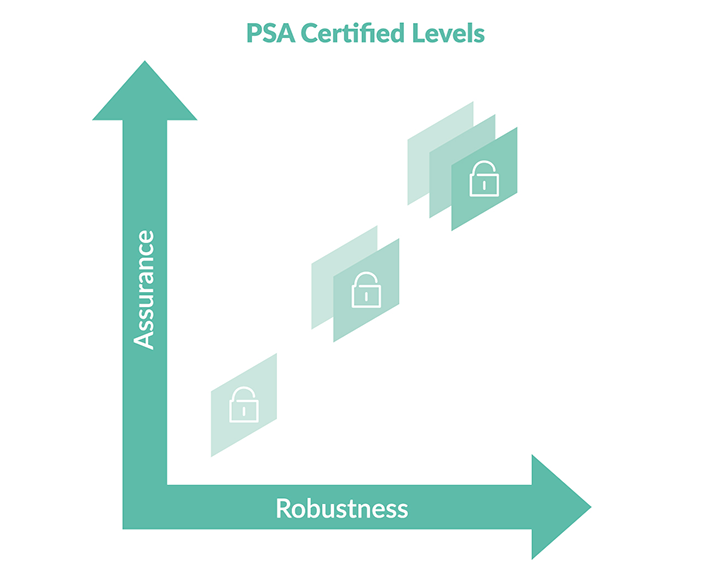 PSA Certified has benefits for the IoT value chain:
Chip vendors can demonstrate the security level of their PSA-RoT to device makers and be rewarded for their engineering effort. Having a chip with a PSA Certified Level 1-3 assessment will mean there is less to test for the OEM who can rely on independent test house evaluation. At launch PSA Certified has created the first two levels of evaluation and is working on Level 3.
RTOS vendors who have a solution integrated with the PSA-RoT developer APIs are able to complete a PSA Certified Level 1 questionnaire showing that they have adhered to the 10 security model goals and industry good practice.
Device makers will be able to choose chips with a suitable security assurance and robustness for their end use case. They will also be able to complete a PSA Certified Level 1 "Document and Declare" questionnaire to show that they have followed the security model goals and industry good practice.
Service providers will be able to get trust information on the devices they are connected to via an Entity Attestation Token (a built in "report card" where the device makes a set of claims that are cryptographically signed).
A big issue for the industry is that vulnerable devices get to market because their security functions have not been thoroughly tested.  IoT devices that are not formally evaluated in labs are more likely to end up in the hands of hackers and be vulnerable to attack: you can view online any number of IoT gadgets being ethically hacked by researchers in minutes.
To solve this problem, we need independent security evaluation that copes with the diversity of IoT products – how can you certify such a wide range of devices with their own specific security requirements and robustness needs? PSA Certified has tackled this by creating a scheme that focuses on the security requirements of the generic parts of IoT platforms and System on Chips and combined this with a multi-level evaluation scheme.  A distinguishing feature of PSA Certified is that the security requirements being evaluated derive from careful and methodical work that has gone into the IoT threat models and PSA security model, providing a strong foundation for the scheme.
If the test labs assess that the chip, OS or device has passed evaluation, a digital certificate will be provided along with a unique digital certificate number (We are using International Article Number EAN-13).  It is recommended that the EAN-13 reference is used in the chip's attestation token as a "HW version claim" to enable relying parties to identify the PSA-RoT and link the chip or device with the certification level of the PSA-RoT provided by this website.