Simplifying security adoption by unlocking complex security features
PSA Functional API Certification lowers the bar to security adoption. It enables access to a consistent set of security functions in the PSA Root of Trust (PSA-RoT) so that, regardless of the underlying hardware, software and firmware implementations, security is accessible to everyone.
PSA Certified provides easy-to-use APIs, known as the PSA Functional APIs, that provide a high-level interface to the security functions in the PSA-RoT. The APIs abstract the complexities of security and ease the integration and use of trusted functions in the chip. The implementation, compliance and consistency of these APIs across multiple devices can be verified using free test kits, offering assurance that they are functioning correctly and providing a marker for interoperability across products supporting these APIs.
High-level APIs unlock security complexities meaning faster time-to-security.
Fragmentation is reduced by widespread adoption of the APIs.
Reusable APIs allow maximum return on investment for security.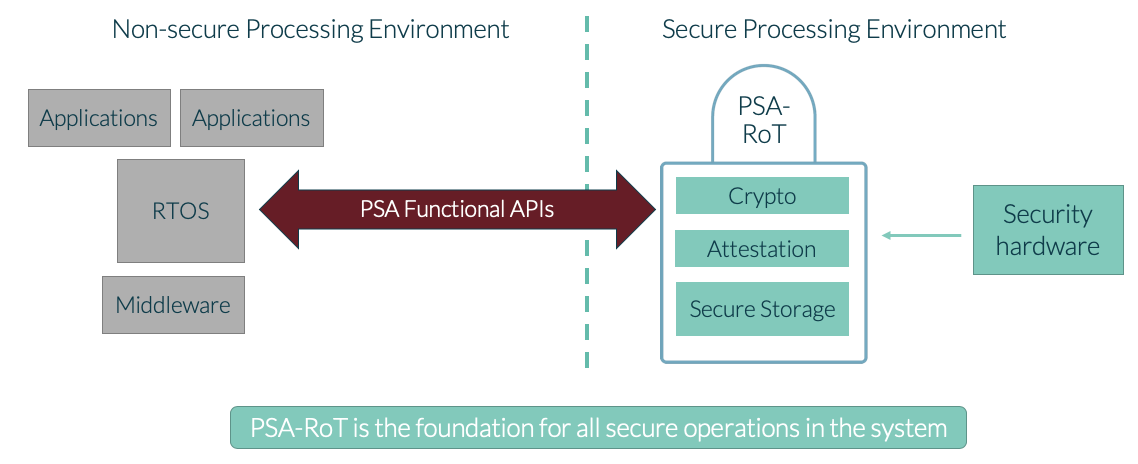 An Ecosystem of Compatible Security Solutions
PSA Functional API Certification builds an ecosystem of solutions all supporting the same Root of Trust and security functions with a standardized interface.
This enables seamless application portability across IoT devices, providing access to a consistent set of security functions and enables trusted communication with cloud services.
Software vendors can easily port to multiple chips with the PSA-RoT and APIs and chips can port to multiple software platforms.
Lowering the Real Cost of Security
Security can be extremely time-consuming and complex, both for research and device design, however on the other hand, the cost of not having security is much greater, with both financial and reputational consequences.
The PSA Functional APIs make baseline security accessible for every product, providing free APIs with access to complex security functions and a free test suite to verify API compliance. Together, these reduce the true cost of security.
Next Steps
Find a step-by-step guide to Functional API Certification
Get Started
Functional API Certified products are showcased on the Certified Products page and the logo can be used to market the solution to customers.